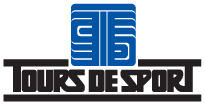 TOURS DE SPORT,INC.
RESPONSIBILITIES, TERMS & CONDITIONS.
FULL PAYMENT IS REQUIRED AT TIME OF RESERVATION FOR ALL BOOKINGS WITHIN 30/45 DAYS OF DATE OF TRAVEL.

Please read the following carefully. Do not make payments until you have read these "Responsibilities, Terms & Conditions". Receipt of any payment indicates acknowledgment & acceptance of the terms stated below.

YOUR RESERVATION WILL BE CONSIDERED CONFIRMED WHEN TOURS DE SPORT EMAILS A CONFIRMATION TO YOU. YOU WILL RECEIVE THIS EMAIL WITHIN 1 BUSINESS DAY. YOUR CREDIT CARD WILL NOT BE PROCESSED UNTIL THAT TIME.

RESPONSIBILITY:
The responsibility of Tours de Sport, Inc. (referred to as TDS) and/or its agents are limited. TDS acts only as an agent for clients in regard to travel. TDS assumes no liability for injury, damage, loss, accident, delay or irregularity which may be occasional either by reason of defect, through acts of God, fire, breakdown in machinery, riots, strikes or from any causes beyond the control of TDS. Tour services including lift tickets, transportation and lodging are furnished by independent contractors (suppliers) and do not act for or on behalf of TDS. The acceptance of tour arrangements is deemed to be consent to the above. TDS is not reliable or responsible in any way whatsoever for any act, error or omission or for inconvenience, loss, damage, injury or death arriving out of tour arrangements.

RESERVATIONS AND PAYMENTS:
An initial deposit of $50 or $500 per person (non-refundable) is required to confirm a reservation depending on if your destination is in the Eastern US & Canada or Western US & Canada or South America. Some lodging properties require a larger deposit during peak or holiday times. No lodging will be booked or confirmed without receipt of deposit. Upon receipt of deposit, a confirmation of receipt and final payment date will be sent to you. Final Payment is due 30 days prior to arrival for Eastern US & Canada or 60 days prior to travel for Western US & Canada and South America. Final payment for travel during a holiday period may be required sooner. For reservations made within 30/60 days of travel, full payment is required at time of booking. Any payments received within 30/60 days will be considered late and must be in the form of cash, certified check, money order, cashier's check or bank transfer. Cash, checks, Mastercard, Visa, American Express and Discover may be used for payment. Persons making final payment via a credit card will be required to sign a form authorizing TDS to charge their card. Reservations not paid in full 30 days prior to the trip will be assessed a $50 late fee. Last minute reservations that require use of overnight delivery service(s) will be charged a $15 processing fee. TDS cannot guarantee any reservations not paid on time. In some instances, TDS is required to release rooms back to the supplier when not paid on time. In these instances, TDS will make every effort to reacquire lodging space. The customer is required to pay any late booking fees or other expenses incurred by TDS in this process. Should lodging space not be available, TDS will make every effort to locate comparable lodging at the same resort or an alternate resort.

PRICES:
Suppliers reserve the right to increase their prices without prior notice. Any increased costs will be passed to you. No increases will be affected if your reservation has been deposited, booked and confirmed.

CANCELLATION POLICY:
All cancellations must be received by TDS in writing. Cancellations received 60 or more days prior to departure will be assessed a per person penalty equal to the amount of the initial deposit. Cancellations received 60 or fewer days prior to departure will receive no refund. TDS does not purport to guarantee snow conditions at any resort. Refunds will not be honored should a passenger decide to cancel this agreement due to snow conditions. A minority of resorts will provide full or partial refunds or credits for inadequate snow. In these instances, TDS will refund to the customer all funds returned to TDS by the suppliers. If a refund is issued due to a client change or cancellation, any loss of funds due to the exchange rate is the responsibility of the client.

NO REFUNDS FOR UNUSED SERVICES:
Refunds or allowances will not be made for transportation, accommodations, lift tickets, services or other portions of the tour which are unused on or after the tour departure date.

INSURANCE:
Passengers are strongly advised to protect themselves with insurance. Optional cancellation, accident, health and baggage insurance are available to protect tour participants from unforeseen circumstances. Upon request, TDS or your travel agent will provide further information and rates. Insurance must be purchased no later than 30 days prior to trip departure or as required by the Insurance Company.

LODGING SECURITY DEPOSIT:
A security deposit is required by all properties upon check-in. The amount of deposit varies based upon the type of unit and the number of persons occupying the unit. The average security deposit is $50 per person per unit.