Ski the World's Finest Slopes in Canada's Banff National Park!
Having trouble viewing the e-mail below? view online
Ski the World's Finest Slopes in Canada's Banff National Park
It's not often that a ski vacation and National Park visit can be one and the same, but having three ski resorts all within the protected boundary, visiting Banff National Park is a unique experience.
Skiing within a national park boundary has its advantages. Since development is not permitted in the park, views from the ski hills literally extend to the horizon. You see peaks, glaciers and snow instead of hillside condos crawling their way up to the mountain. The views are breathtaking and they ensure 360 degrees of natural beauty.
Banff National Park also boasts three separate resorts, each with a distinct vibe. Mt. Norquay, the smallest of the three, is known as the local's favourite. Its proximity to Banff, a ten minute shuttle from the centre of town, makes it logistically a great place to hit for a half day (or a long lunch for Banffites) with plenty of terrain to keep you entertained all day.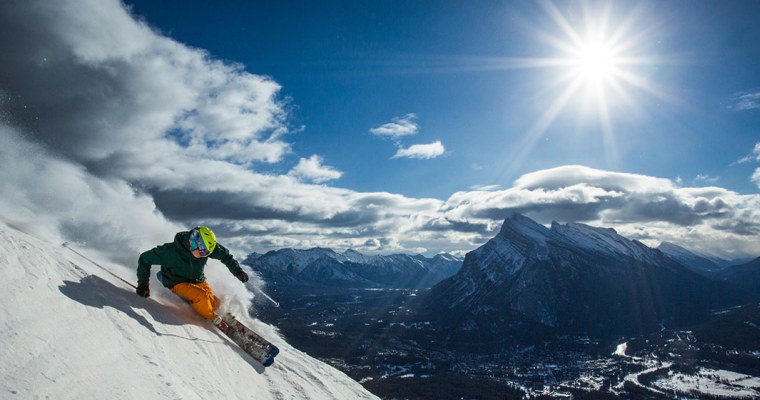 » Mt. Norquay. Photo by Paul Zizka.
Sunshine Village is less than 20 km from town and offers a wide variety of terrain. With a range of green runs and expert slopes, this is the resort where you go to explore glades or get into backcountry easily. Several terrain parks scattered across the resort also make it the place to ride rails.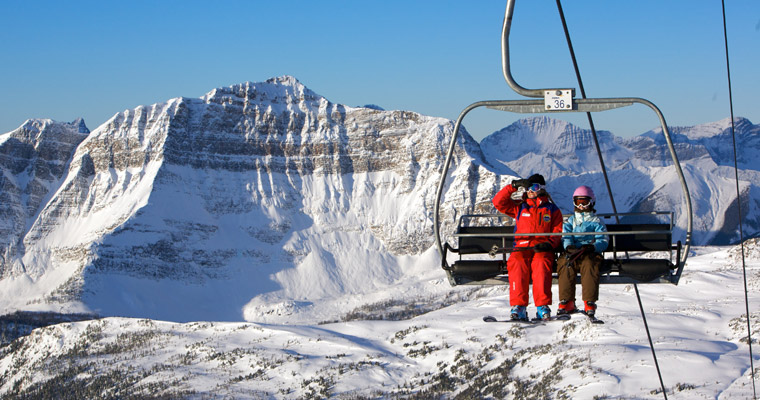 » Sunshine Village Divide Chair. Photo by Sean Hannah.
Lake Louise, on the other hand, is made up of three mountain faces. The front face is predominantly family-friendly, wide-open groomers with a view so remarkable (the slopes face Mount Temple, the highest peak in the park, and the world renowned Fairmont Chateau Lake Louise) even experts will want to do a few laps. The back bowls are where you go for a challenge or to chase the pow. The best part yet: a single tri-area ticket will get you access to all three resorts.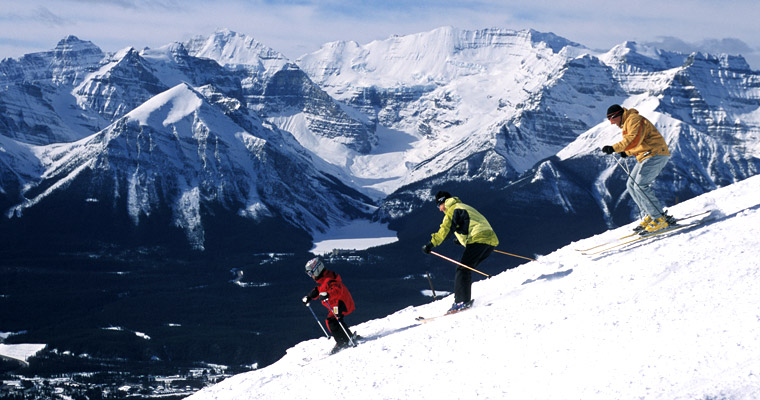 » Family skiing at Lake Louise Ski Area. Photo by Scott Rowed.
However, possibly the best kept secret about Banff National Park is that, with the longest non-glaciated ski season in North America, spring skiing is at its best in April and May – well after most resorts have packed up for the season. Balmy temperatures and fewer visitors mean some of the best conditions of the season are available when skiing straight onto the lift (no line!) is a regular occurrence. While 'spring skiing' refers to a few weeks in March for most resorts, it peaks a few weeks later in the Canadian Rockies. Book your stay in April and you will also benefit from enticing accommodation specials while sharing the slopes predominantly with locals.
The warmer temperatures also translate to great après opportunities. Both Sunshine and Lake Louise have spectacular patios with live music pumping most weekends to get you stoked on sitting outside and special events like 'Shake the Lake' at Lake Louise and Slush Cup, a pond skimming competition at Sunshine Village, there are plenty of parties you won't want to miss.
With 3 resorts and 3 different vibes all in 1 National Park, it may well be time to consider a trip west for your next Ski Getaway.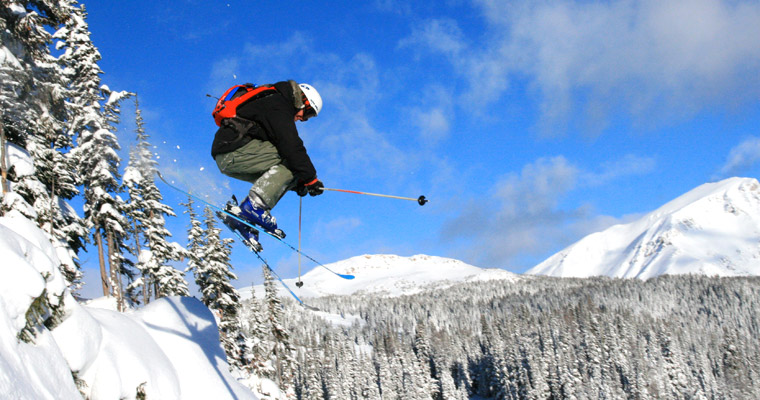 This eliminates ALL excuses for not visiting Banff/Lake Louise/Sunshine this Spring! Everyone we send to these fabulous properties comes back raving about their experience. Your savings could range from $200-$1,000+ depending on your dates and accommodations chosen!
Valid From: Book and deposit before March 12, 2016. Travel must be between March 9 and April 30. Must book at least 7 days prior to desired arrival date.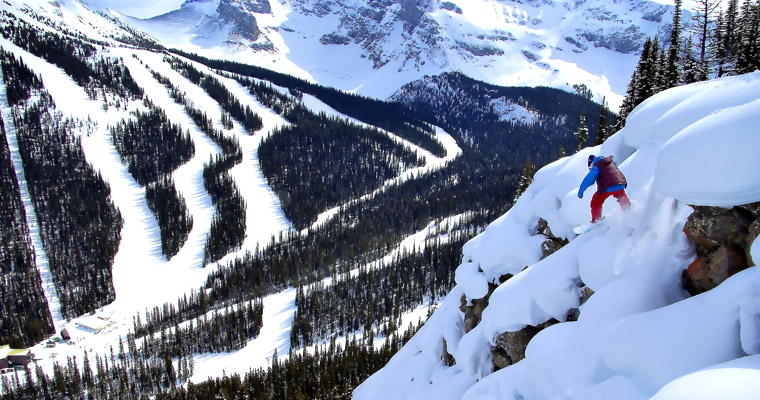 Always one of our favorite properties for families, and a GREAT value for any traveler looking for quality accommodations at a reasonable price!
Valid From: Remainder of the season.
To make sure you continue to receive our e-mails optimally and in your inbox (not sent to bulk or junk folders), please add esales@toursdesport.com to your address book or safe sender list.